I've always loved Greece.
When I went with my parents in 1983, I was a blonde teenager who enjoyed catching the eye of handsome Greek men. I decided that I would move to Athens after high school graduation.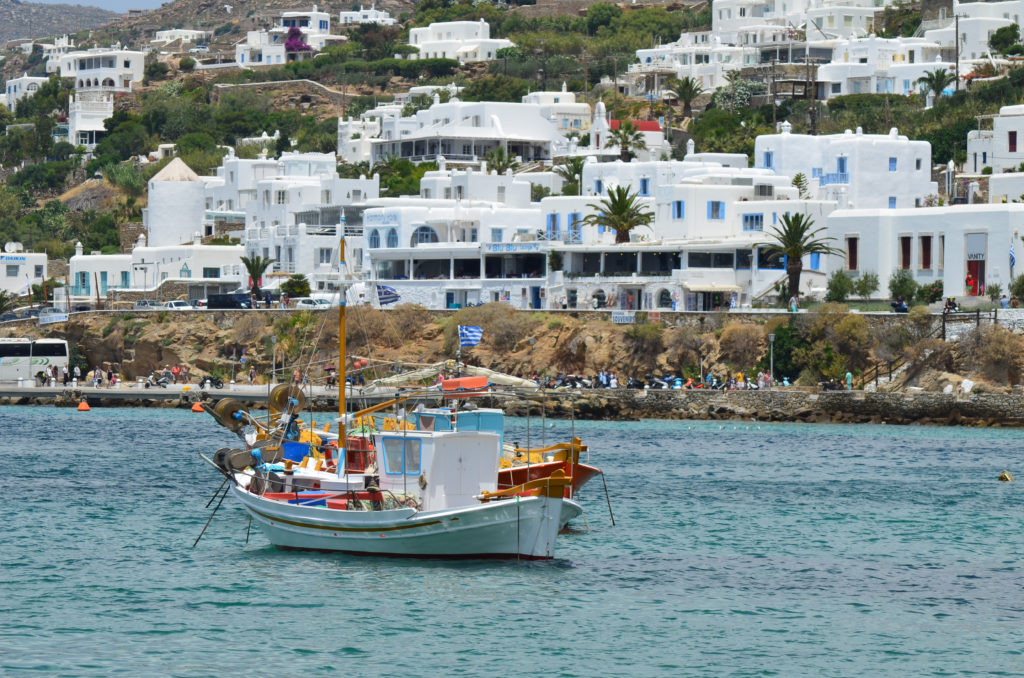 Reality got in the way – things like college, graduate school, a job – and I never returned.
My husband traveled there after college and also wanted to return. When we got engaged, we briefly talked about Greece for our honeymoon destination. Instead, we ultimately decided to go somewhere neither of us had been before and chose Hawaii. Although lovely, I knew I wanted to go back to Greece one day.
On the 1983 trip, my parents and I took two back-to-back cruises on the Stella Maris and Stella Solaris cruise ships. touring Athens, Rhodes/Lindos, Santorini, Mykonos, Samos, Ephesus/Kusidasi, Istanbul, Cairo and Jerusalem. On another cruise in 1985, we went to Corfu.
Santorini and Mykonos were my favorite places in Greece and I was thrilled our itinerary included Mykonos. On the original trip, we took a group walking tour including the windmills. I recall seeing old women dressed in all black and hunched over walking around. All the buildings were white and blue. After eating lunch, we went to a beach and much to my parents horror discovered it was a topless beach. Let me tell you it is not a pretty site seeing a gray-headed, plump, 60-something female take off her bikini top and jump in the water.
Fast forward a few decades. Mykonos is very much the same with its narrow streets flanked by pure-white buildings with blue trim. Early that morning, the streets were empty and it felt surreal – as if I were walking through a stage set instead of the actual Greek Island.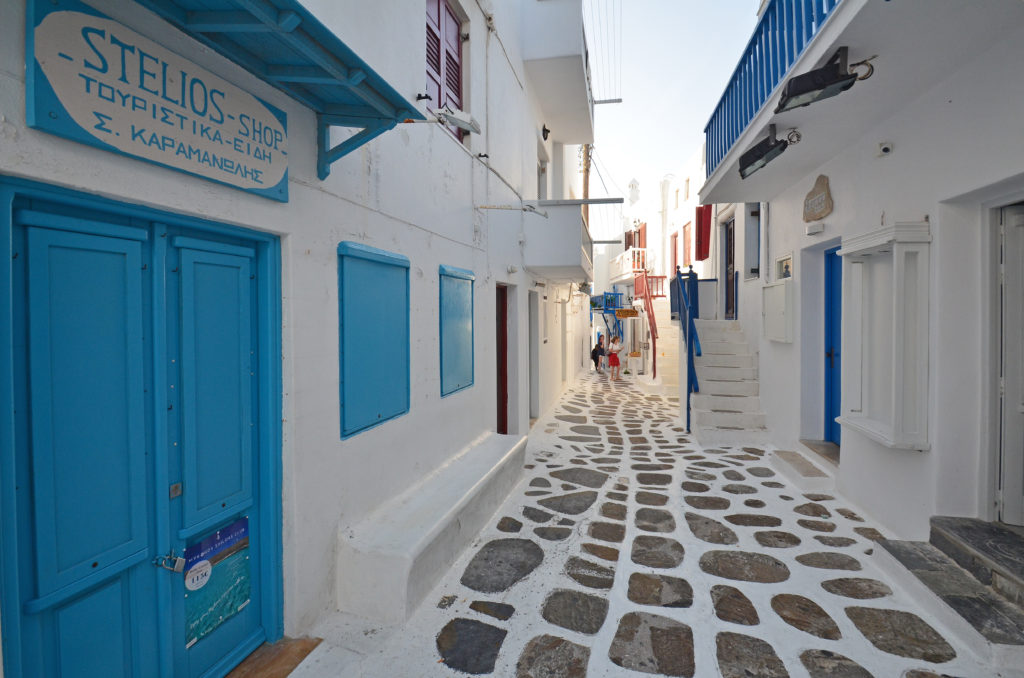 The windmills were still there just as I recalled with their wooden antennas blowing in the wind. This time, I didn't see the widow women with their black veils and attire. That may be a thing of the past.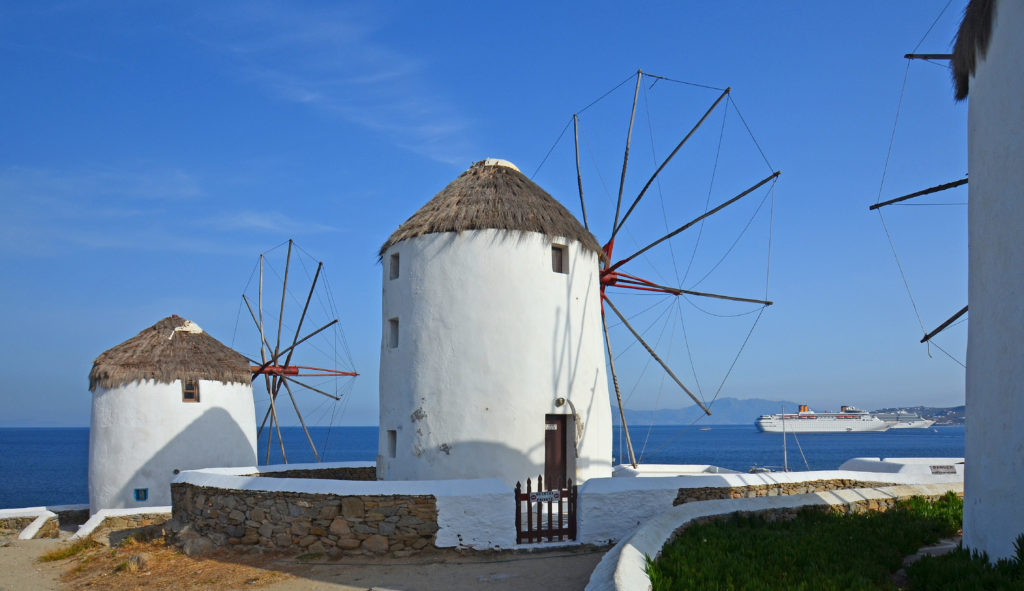 One of my children really wanted to go to the beach. We did our research – no topless beaches this trip – and chose Platis Gialos. Only a short 15-minute taxi ride from the main part of town.
Because it was early, we had our pick of beach chairs. We paid 7 Euros each and selected chairs right along the water. Since, the area was connected to a restaurant, we ordered beverages and snacks. The water was crystal clear.
After a few hours, it was time to meet my in-laws who had taken our other daughter to the Folk Museum. We took a bus ride back to town and selected a restaurant for an amazing lunch.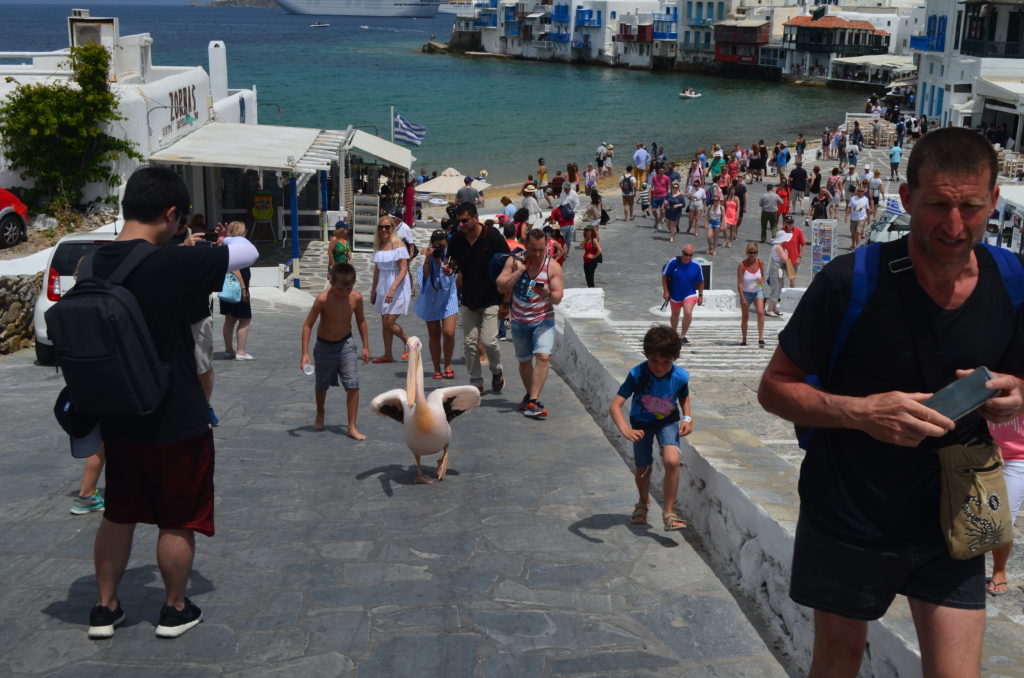 The crowds had arrived and we wandered the town a little bit more. I had to get one last shot of me from a then and now perspective.