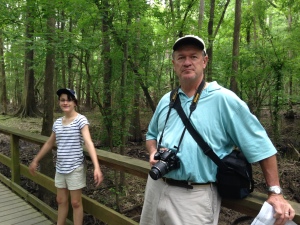 Driving along a two lane road in central South Carolina, we didn't know what to expect at Congaree National Park – especially since we'd never heard of it before. In fact, the park has only been a National Park since 2003. Before that it was the Congaree Swamp National Monument.
According to our guidebook, "National Geographic Guide to the National Parks of the United States – 6thEdition," it is not a true swamp. It is a floodplain ecosystem which changes when two rivers – the Congaree and the Wateree – pass over about 10 times per year. It is also a forest of bottomland hardwood trees – specifically the bald cypress, water tupelo and loblolly pines. In fact, the largest loblolly pine in the world, climbing more than 160 feet, is located here.
Although the visitor's center was closed that Sunday, trails maps and brochures with marker descriptions were available. We chose to take the 2.4 mile boardwalk, which was slanted in different angles – mainly because it was built in 8 feet of muck which changes every time it floods.
Soon, we saw knobby bits of trees spiking out of the ground. They are called "knees" and although their purpose is not known, scientists believe they help anchor the adjacent bald cypress trees. My husband and I thought they resembled mini hoodoos from Bryce Canyon National Park.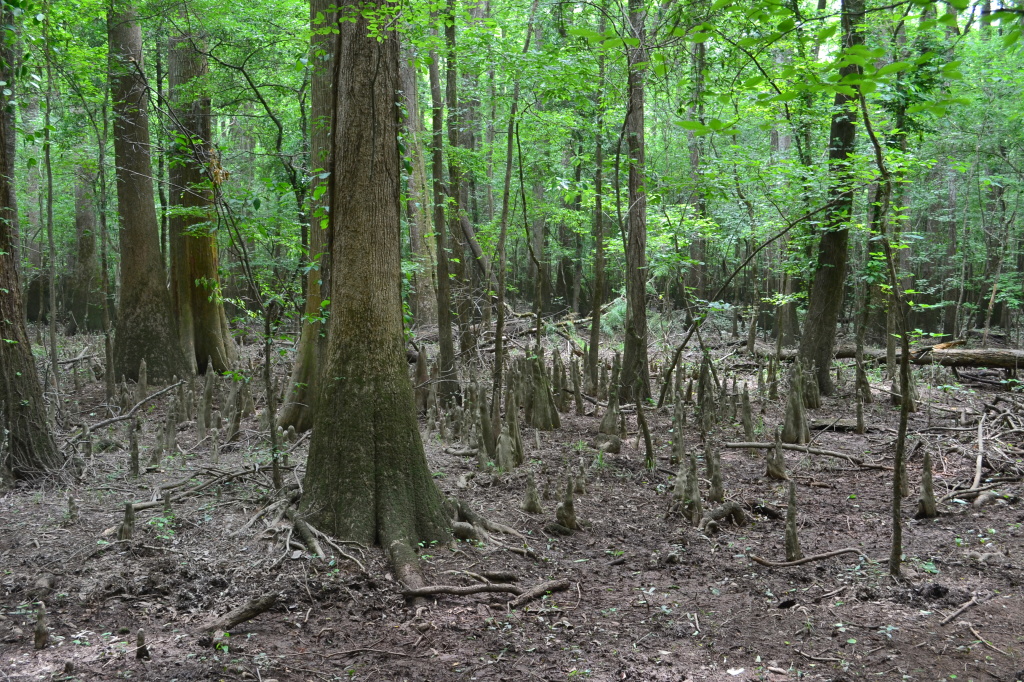 Everything was green and forested by the tree canopy– so much so that I didn't need to wear sunglasses on the cloudless day and I never got hot. Hearing the birds chirping in the air, peace and quiet descended on all of us. Even though it was Memorial Day weekend, it wasn't crowded.
Later, we came upon the cane break area. It's an area for a plant called switch cane, that strongly resembles sugar cane.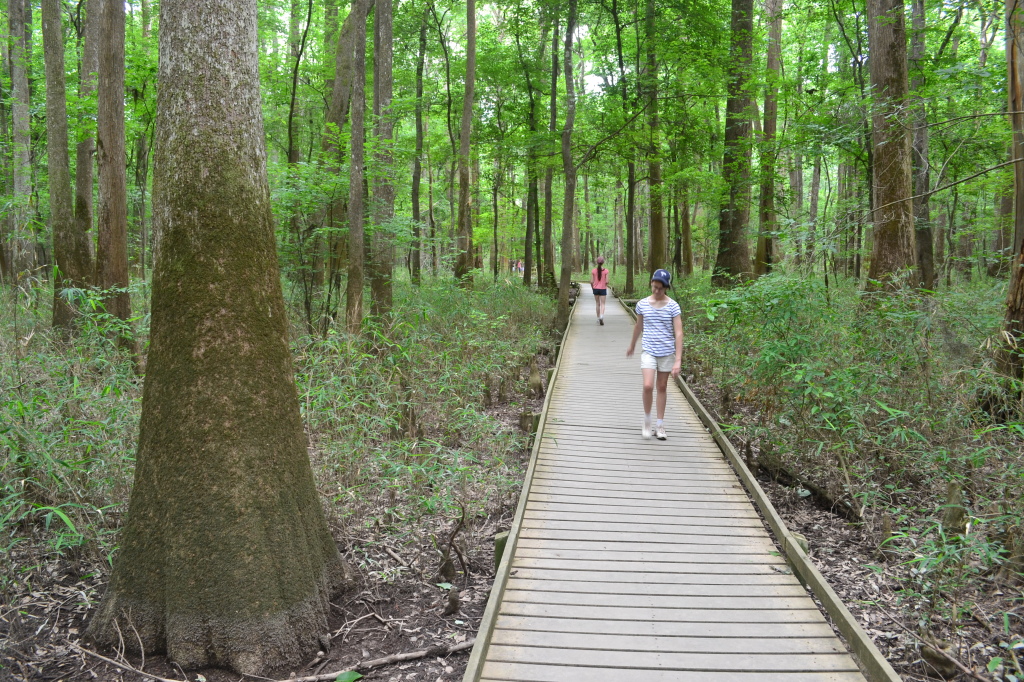 We curved around and headed to Weston Lake, which had a picturesque lookout. Shortly after that point, the boardwalk was closed due to storm damage so we double backed until we found another trail – this one a dirt path that was also on our map. From this path, a group of dwarf palmettos – the palm tree-like plants that South Carolina is known for – grew in the distance.
The highlight of the hike for the kids was a poisonous snake. Eeegh! Earlier, a hiker told us she had just seen a snake and to be careful. I was amazed at how long it was and my husband felt sure it was either a Diamondback or Copperhead. We had also read about the large mosquito population so we sprayed Off Deep Woods. We didn't have a problem. As we passed the visitor's center, there was a "mosquito meter" saying that is was mild a 2 on a scale of 5.
This park is beautiful and worth it if you're wanting to experience something different. See the website at http://www.nps.gov/cong/index.htm.