Krog Street Market recently opened in the ultra hip Old Fourth Ward/Inman Park area. It's Atlanta's version of Vancouver's Granville Island, albeit on a smaller scale.
Visitors can dine at the many eclectic restaurants in this upscale food court located in a new (but made to look old) warehouse. Offerings include ice cream from Jeni's Splendid Ice Cream to Chinese fare at Gu's Dumplings. Water – sparkling, chilled and un-chilled – is self-serve near the community tables. Other restaurants including The Luminary and Superica offer a full-scale restaurant. Along the way, you can shop retails establishments such as XOCOLATL Small Batch Chocolate and French Market Flowers.
Once you get your food, find a table and people watch. It's fun to see people of all ages come together. From families with strollers to singles grabbing a cup of coffee before a jog, you'll see a bit of everything here.
I'd heard that lines for the restaurants could be long with limited seating. This past weekend, we got there at 11:30 – about the time most dining establishments opened. Although I still had a bit of a line, I tried Yalla, the Middle Eastern place owned by chef Todd Ginsberg. He also owns Fred's Meat and Bread next door. Although I haven't tried Fred's, they offer a bar to sit at (reminiscent of airport dining). I spotted a large pimento cheese sandwich from there that looked worthy of trying for my next visit.
Back to Yalla, you order at the counter, but don't pay until your name is called when your food is ready. It seemed to create an unnecessary queue, but the wait was only about 5 minutes so it wasn't a big deal. I ordered the Shawarma Pita for $8. It's a pita stuffed with chicken shawarma, hummus, baba ganoush, fried eggplant, Israeli salad and pickles and a few other things. It was delicious!
I was expecting a pita with just the shawarma and the other stuff on the side. Instead, it's all stuffed into the pita (think Chipotle burritos), but the flavors worked together. The pickles are spicy, but are cooled by the tahini and hummus. The portion was big and plenty for me. However, you could get all their entrees in a pita, laffa (flatbread wrap) or a bowl depending on your appetite.
DH went to Grand Champions BBQ. He didn't have a line and got the brisket sandwich which was surrounded by thick slices of white bread. The potato salad he ordered was as close to my favorite (Hickory Stick BBQ in Shreveport, La) as I've ever had. Afterwards we were in the mood for something sweet. At the Little Tart Bakeshop, people in front of us were ordering brunch items. We looked in the glass cases at the large pastry selection and decided on a mocha butter cookie. It was delectable and packed a lot of richness in just a few bites. The perfect ending to the meal.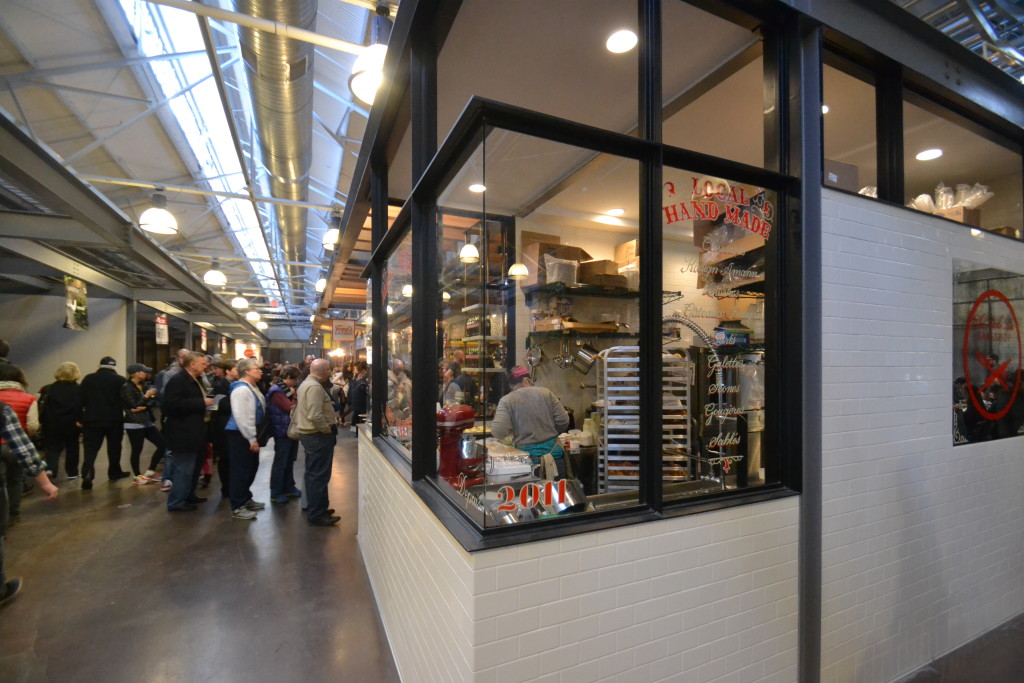 For more information, visit the website at Krog Street Market. Here, you will find links to all the establishments mentioned with menus and news. Check back often as a few more places will be opening soon over the next few months.