In November, the husband and I took a one-night trip up to Asheville, NC. Since both of us had previously visited the Biltmore Estate and the Grove Park Inn, we mainly spent this trip exploring downtown.
Loading up on maps and brochures at the visitor center, we decided to take the Urban Trail Walking Tour. The short walk took us by landmarks, sculptures and historic buildings. Street performers serenaded us as we stepped in many craft shops – my favorite being an old Woolworth with the soda fountain still serving food.
As the day wore on, I realized I really needed a big dose of relaxation. The fresh air and mountains helped, but the previous week's stress had done a number on my neck and shoulder and muscles. I needed a massage. Since I was technically in the "spa capital" of the world, I sought one out.
We had started our walk at the Grove Arcade and I remembered seeing a place that offered massages and foot baths. When we ended our walking trail, we went inside the indoor mall and I was able to book an appointment an hour later. That gave us time to explore the arcade.
Built by E.W. Grove (yes – the same Mr. Grove that built the Grove Park Inn) to help downtown Asheville thrive commercially, the Grove Arcade featured shops, restaurants and offices in an art-deco design popular in the 1920's. Although the historic building was successful for 13 years, the US government bought it during WWII. In the late 1990's, residents wanted the building returned to its former grandeur and it was reopened in 2002. It now boasts apartments in addition to offices and retail shops. The 85-year-old building is still Asheville's largest commercial building.
Wake Foot Sanctuary is just that – a place to get your feet pampered in a spa setting. But it's not a pedicure place. Instead, Wake offers 45-minute foot baths that are so specific they have a menu of a dozen selections ranging from $20-$30 each. Additionally, you can select massage add-ons for 20 or 40 minutes. I chose the Lavender Chamomile Soak with a 20 minute head, neck and shoulder massage.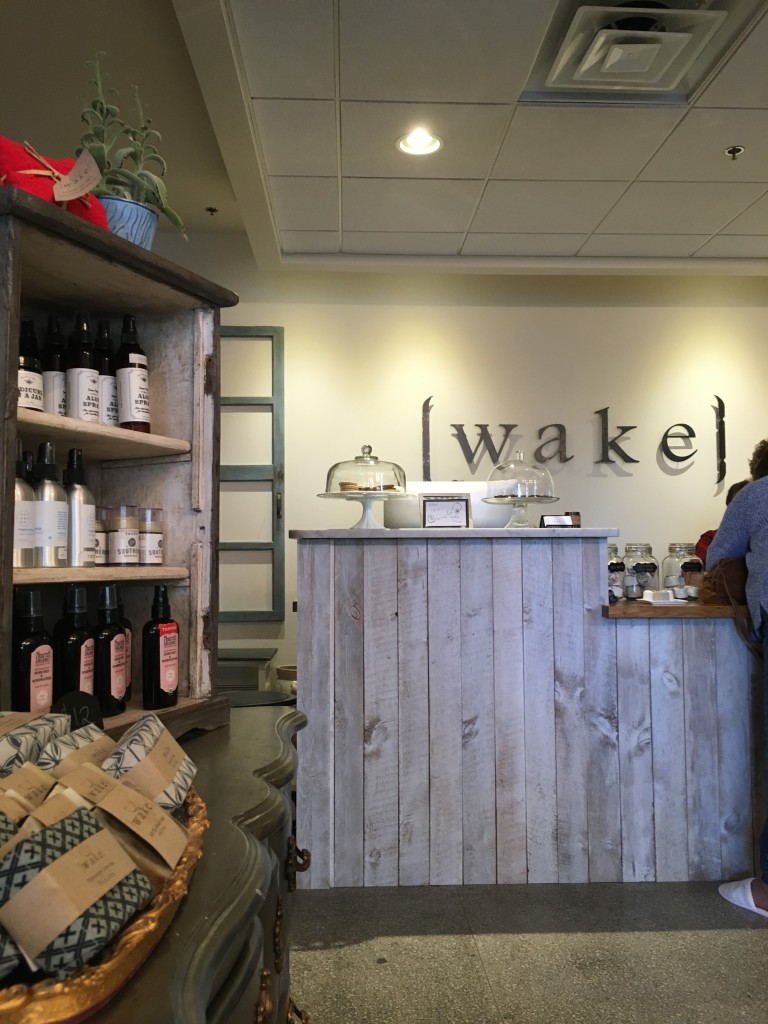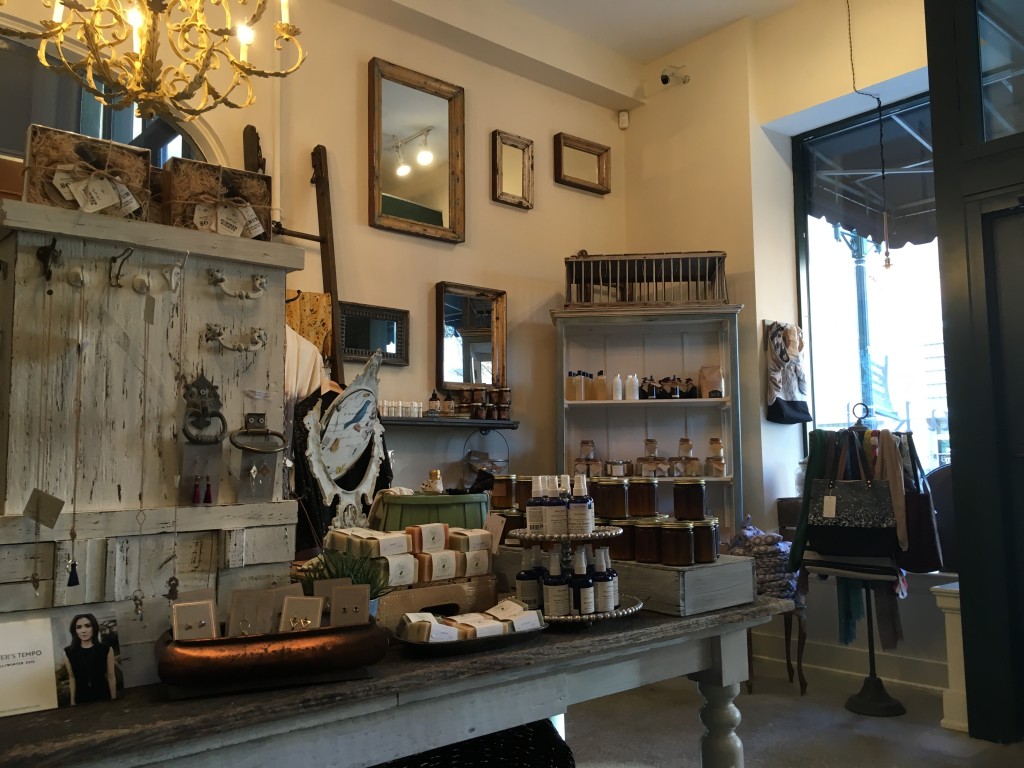 While waiting, I was given a pair of cushy white slippers. Just taking off my sneakers and listening to the classical music was relaxing in and of itself. I had a few minutes to peruse the shop with its offerings of scented candles, oils and jewelry before my name was called.
Behind the draped curtains was a room with several couches and chairs. Although a community room, it was quiet and I could block everything around me out. The therapist wheeled in a large copper wash basin and gently placed my feet inside. The warmth of the water transported me far away from an indoor mall in downtown Asheville.
At first, there was a young couple getting foot soaks across from me. But their session ended a few minutes after mine began. Then, my therapist came and gave me the head, neck and shoulder massage while I was sitting there. Afterwards, I continued the foot soak as she brought in more hot water to the basin to keep it nice and warm. The suds tickled my feet and I loved the dried herbs that floated to the top. As I wiggled my toes, the water felt soft.
A group of four women came in and settled in on the couches at the other end of the room. They were having girl time catching up and relaxing. All too soon, my session ended. I came out of there a completely relaxed person who could enjoy the weekend.
It's the perfect concept. A foot soak is easy and even with the massage, you don't get undressed. You can truly be in and out of there in under an hour, ready to shop, sight-see and get on with your day.