Normally most people driving to Beckley, West Virginia from Atlanta would take I-85 Northeast to Charlotte, NC and then I-77 north to Beckley, WV, passing through Southwestern Virginia. Because of that, I'd researched a few towns in the Blueridge section of VA with towns such as Wytheville and state parks called Hungry Mother and Grayson Highlands. I figured if time permitted in either direction, we'd explore or have lunch in one of these spots.

Plans changed when Hurricane Matthew made landfall in North Carolina on the day we left Atlanta. While halfway to Charlotte on a cloudy day, wind gusts picked up considerable. Weather radar indicated that Matthew's outer bands were pounding Charlotte with lots of rainfall.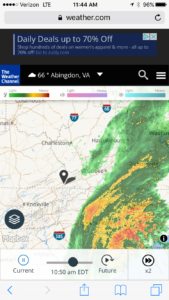 We detoured by heading north from Greenville, SC to I-26 in Asheville, NC. I'll say the drive was pleasant. But once we went on I-26 north from Asheville to Johnson City, TN. The car climbed up the mountain and at the top of the peak we were totally fogged in. Making the descent towards Tennessee, the fog lifted and we saw the most beautiful scenery.
We then hooked onto I-81 northeast to Virginia through Bristol and Abingdon. My guidebook mentioned Abingdon as the first English speaking town ____. We needed lunch too so we stopped off at the Pepper Mill.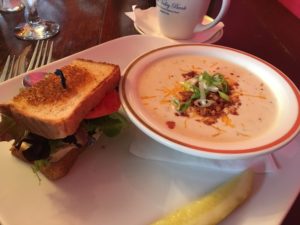 Situated in a 1909 built two-story Victorian house, The meal was good – especially the potato soup topped with cheddar and bacon. Warming up from the dreary day, we drove through the historic district passed the Barter Theatre, which was world famous because a New York producer set up shop there.
One more thing to note. After we got onto I-77 north we went through two tunnels in Virginia. Sometimes you cross a state line just by a sign or a river. However, this was my first experience to come out of a tunnel into a new state!
For more about Abingdon, visit their tourist information site here.