Both the Statue of Liberty and Ellis Island are free. But there's a catch — you have to buy a ferry ticket to get there.
Because of large crowds, purchasing advance tickets online is recommended. The first stop is Liberty Island and you don't even have to get off. Some find that the best views of the statue are from the boat. However, it you want to tour the pedestal or the crown, you do need to get off the ferry.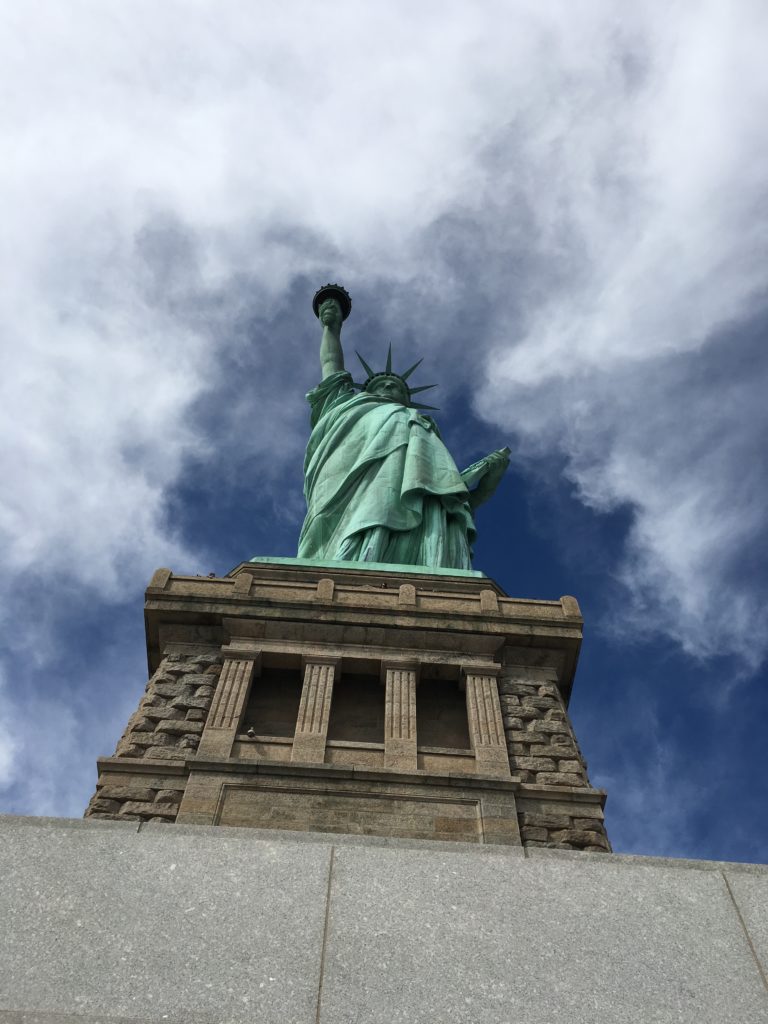 For the pedestal, we had to go through two checkpoints. But you'll soon be rewarded by great views of the city. After about 45 minutes, it's time to get back on the ferry for Ellis Island. Click Statue of Liberty National Monument to learn more.
Surprisingly, not many people departed the ferry at Ellis Island. This was the part I was looking forward to exploring, especially after visiting the Tenement Museum the previous day.
The main attraction is the Great Hall (or Registry Room) seen in every documentary about the island. The light-filled space offered excellent views and I had a hard time picturing it with hundreds of desperate immigrants.
However, we got a better feel for true conditions here by watching the 30-minute film "Island of Hope, Island of Tears." Next, we explored the 3 floors of exhibits on a self-guided tour which gave us a glimpse into the tribulations and obstacles many faced when arriving at the port.
For example, if an immigrant failed one of the tests (medical, visual, etc.), they had to stay in the dormitory shown below. The people didn't even have a real bed, let alone any personal space.
After all that, they still weren't guaranteed entrance into the U.S. Usually a court hearing was scheduled.
I could definitely have spent more time at the museum but the last ferry departs at 4 pm. If I had it to do over again, I wouldn't get off at Liberty Island. Instead, I'd spend all my time here. More information about the museum can be found at the National Park Service website here.
Although we had advance tickets, afternoons are the busiest so there were no seats on the ferry ride back to the city. To learn about tickets and ferry schedules, click here.