"Throw me something mister!"
We took the kids to their first Mardi Gras in the Big Easy.
Kids? Mardi Gras? Do those two even go together?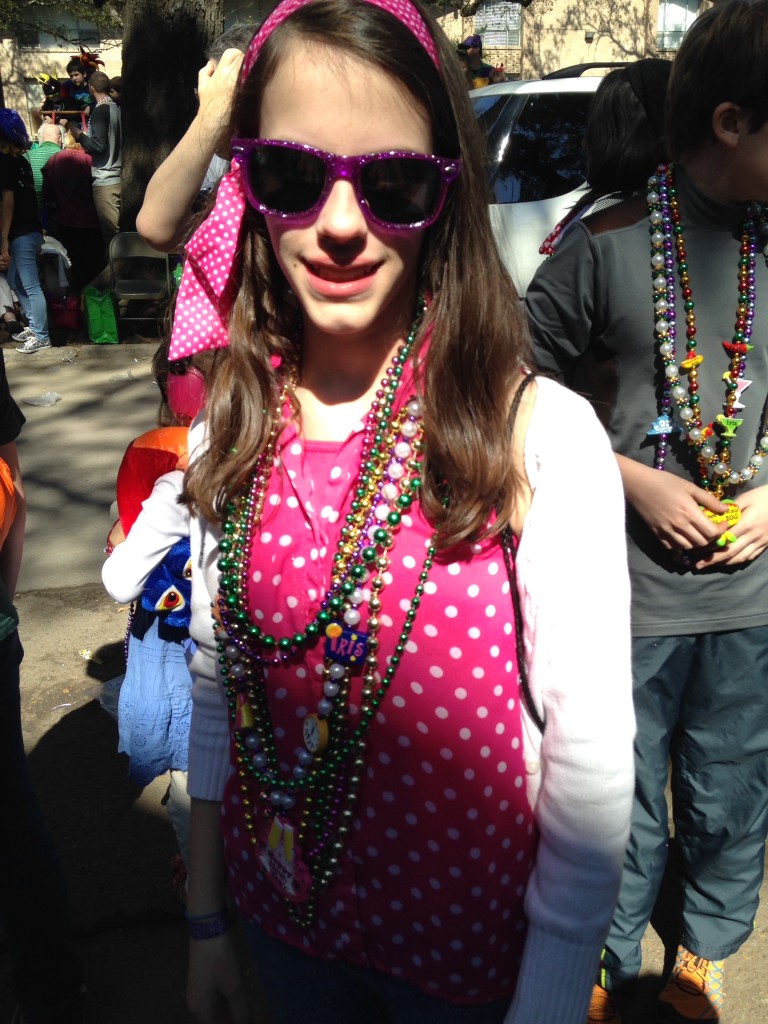 It can, depending on which parades and where you go to see them.
When I went to my first Mardi Gras parade as an LSU grad student, I was amazed at how family-friendly the daytime parades could be. Everyone back home kept asking me incrediously, "You went to Mardi Gras? Wasn't it crazy – full of debauchery and strippers?" Unfortunately, that's a typical reaction, not only for Northwestern Louisiana, but pretty much the rest of the country.
We went to the daytime parades of Iris and Tucks, which are held the Saturday before the actual Mardi Gras day. The weekend parades just before Fat Tuesday have always been my favorite and since it coincided with President's Day holiday this year, we decided it was time to go back.
These parades start in Uptown and travel down St. Charles Avenue – far away from the French Quarter. We stood on St. Charles near the intersection of Constantinople. We were about two blocks from Sacred Heart Academy whose annual fundraiser sells food and offers their portable bathroom facilities for $5 a wristband or $1 per bathroom visit; a bargain if you ask me.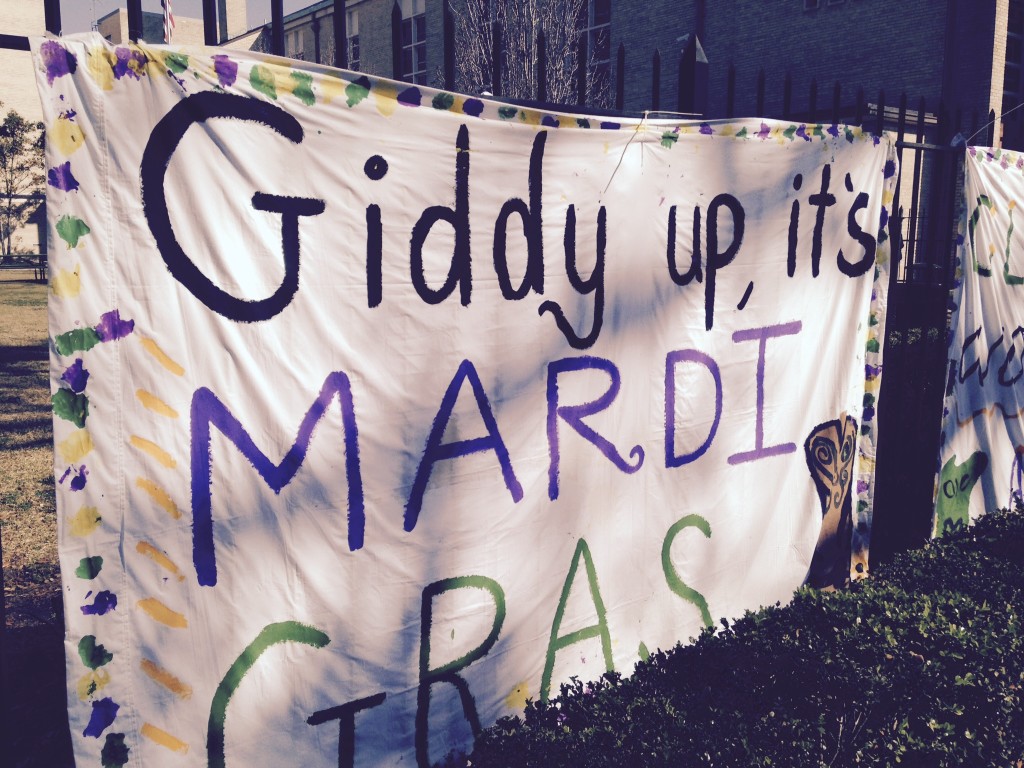 The Krewe of Iris parade started at 11 am, so we arrived about 10 am to find a spot. Tents, grills and tarps marked spaces for large groups along the neutral ground – the median area in the middle of St. Charles.  On the other side, chairs and people lined up but there was much more space. Some residents temporarily fenced in their front yards to the sidewalk to keep parade-goers out and to reserve their own space for only their invited guests.
Ladders with a decorated box on top – for kids to sit in – lined both sides of the street. Dads and sons threw footballs in the street. We were in a residential area filled with families.
Further up towards St. Charles and Napoleon, college kids from nearby Tulane and Loyola, crowded the area. People wore colorful costumes, tutus, wigs. My children dared me to don a gold sequin jacket somebody had given me as a gift. Where else besides and LSU game can I wear it?
After the first parade, a small walking parade came through before the Tucks parade.
The Krewe of Tucks is known for its irreverence and toilet humor. Throws include toilet paper, beads with a latrine, small toilet plungers, as well as the typical colorful beads, cups, stuffed animals and frisbees. It was still tame.
We opted not to go to the night-time parade of Endymion – only because the kids were tired. Leaving New Orleans, we could see cars pouring into the city. We remembered that the night parades are more crowded and usually rowdier – especially those like Endymion that go closer to downtown. We made the right decision and called it a day.