"Are you sure we can do this?" my daughter asked. "I mean, doesn't somebody live here?"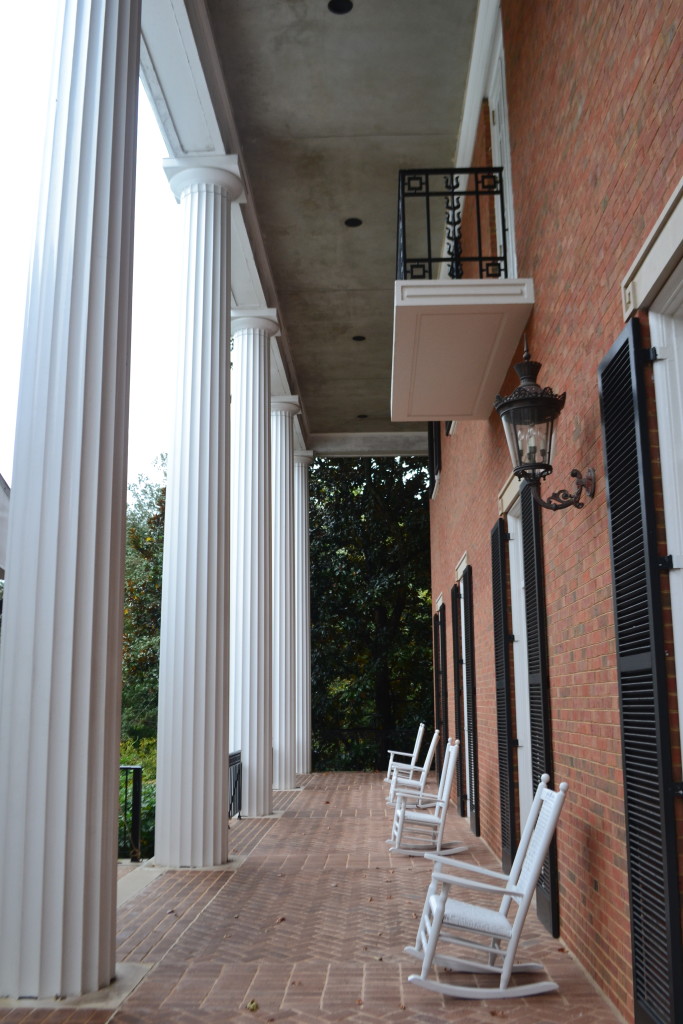 We had just turned into the Governor's Mansion in Atlanta. I presented my driver's license and the guards at the gate told us where to park.Walking up to the orange brick building flanked with 30 white columns, we rang the front door bell where a white-haired, petite docent greeted us on this rainy day and gave us the history of the mansion.
Built in 1965 during Lester Maddox's tenure, it had formerly been property of a Robert Maddox. After his place burned, he donated the land to the state so that it wouldn't be turned into a subdivision. Previous governor's mansions were in Ansley park and Peachtree street in Midtown.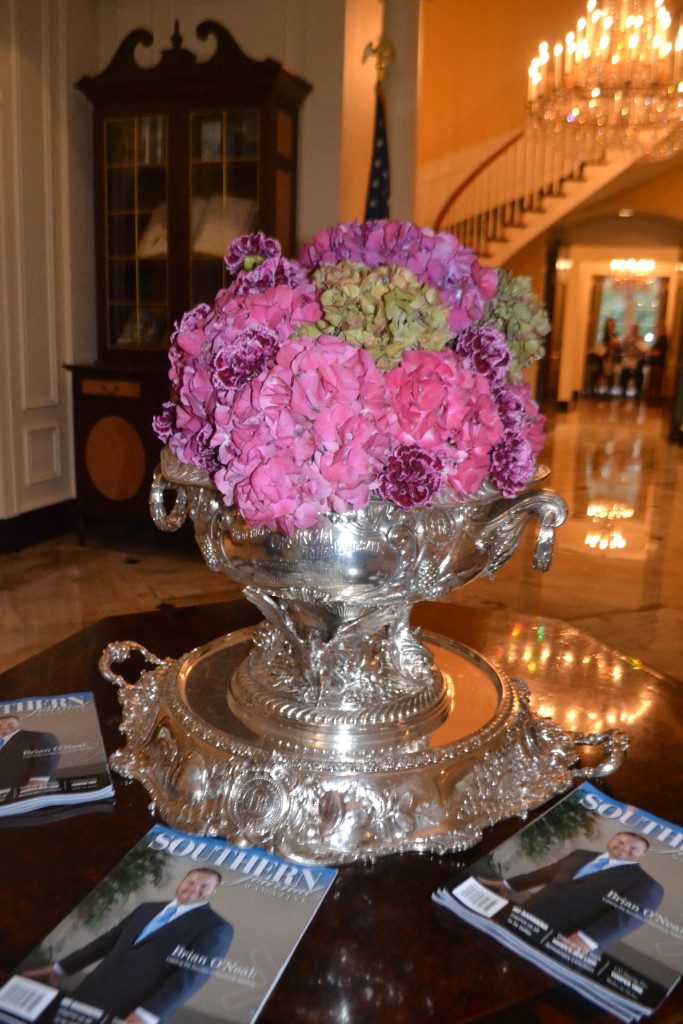 A docent stationed at each room on the first floor gave a description of the function and history of the furnishings. My favorite was the library with its wood walls and fireplace made in England of Italian Carrera marble."I could sit here by a warm fire and read a book with a cup of tea, " I told my children.
My least favorite room was the guest bedroom which is located to the left of the front door. It has a tiny alcove bed reminiscent of Thomas Jefferson's Monticello. It's only used on rare occasions as there are 7 guest bedrooms on the 2nd floor."One time an aide to President Clinton was staying here. He was very tall and said he was so uncomfortable, he got his pillow and slept on the floor." Seeing the marble floor with only an oriental rug to cushion it didn't look that appealing to me, but at least he could stretch out.
"If Ms. Deal was here today, she'd be greeting you right here," a docent proudly informed us. She's so down to earth and once a year invites us upstairs to see their suites. "Education is her big thing so she's signed up to read at one of the schools, " the docent continued.
The main living room is large and supposedly so decorated during Christmas, you can hardly even see the furniture. Several different docents encouraged us to come back during the holidays when they have it decorated and serve cookies.
The informal dining room has a mahogany table and red chairs purchased by Sonny S (from Midnight in the Garden of good and evil to pay for one of his trials). To the right, we could peer into the kitchen where staff were preparing lunch. Christmas ornaments of the mansion and the state seal are for sale for $20 while a cookbook is for sale for $10.
Outside, we wandered the gardens. Surprisingly there's a swimming pool. Somehow I just don't picture any governor and his wife swimming, but there it was. I loved the rocking chairs outside with the large columns. Despite the fact that the mansion resembles a Georgia state rest area, it is beautiful. A large fountain is at the front door, as well as two rockers – one says governor and the other first lady.