Autumn:
Crisp Air.
Harvest Time.
Fall Leaves.
Time to get out of Atlanta and go "Leaf- peeping"
First stop is Dahlonega. Flags and crosses honoring veterans line the streets leading into the town of 5,000 residents. Central to the historic downtown is the Dahlonega Gold Museum. Housed in the original Lumpkin County Courthouse – the oldest courthouse in Georgia, the museum details the history of the first gold rush in U.S. history.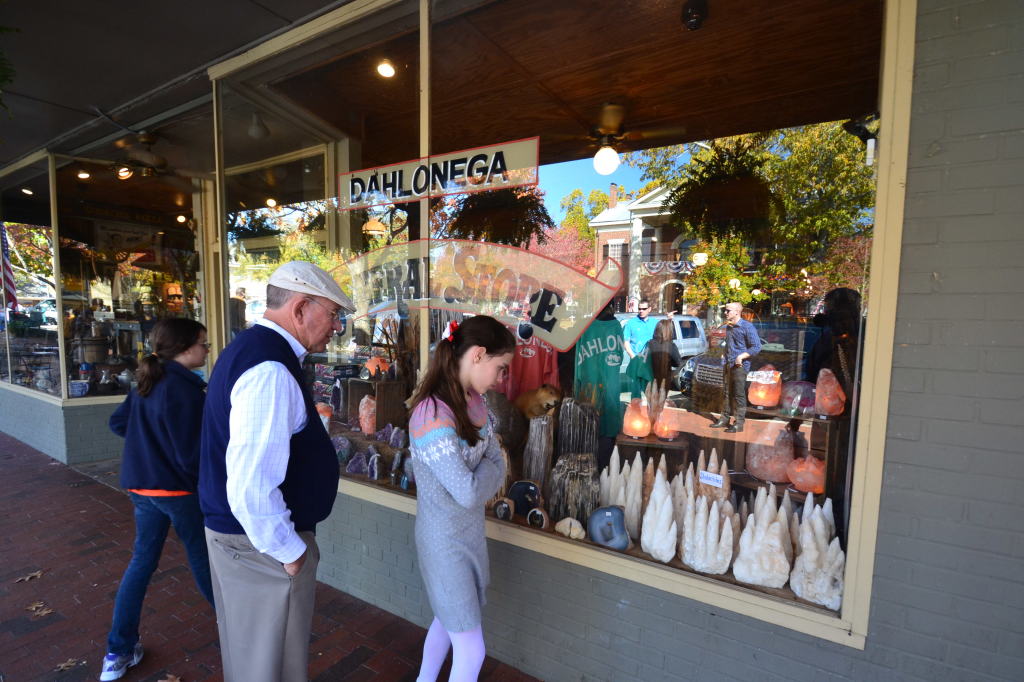 We stopped at The Picnic Cafe and Dessertery across from the Gold Museum to order sandwiches to go – chicken salad and BBQ Pork. While waiting for the food, I walked next door to the Dahlonega General Store filled with a collection of different gems, stones and geodes for sale. An old fashioned piano player played tunes while tourists looked at t-shirts, hats, walking sticks and candy. Scented candles, soaps and cards were in the back of the store. My mother-in-law even purchased a Santa decoration for an upcoming Christmas swap. (How she will get it on the airplane – nobody knows.)
Back on the road, which was pretty curvy, the landscape was dotted with oranges, yellows and a few reds. Despite the captivating scenery, we had to roll the windows down to help prevent motion sickness for those in the far back seat. Another 45 minutes and we reached Vogel State Park.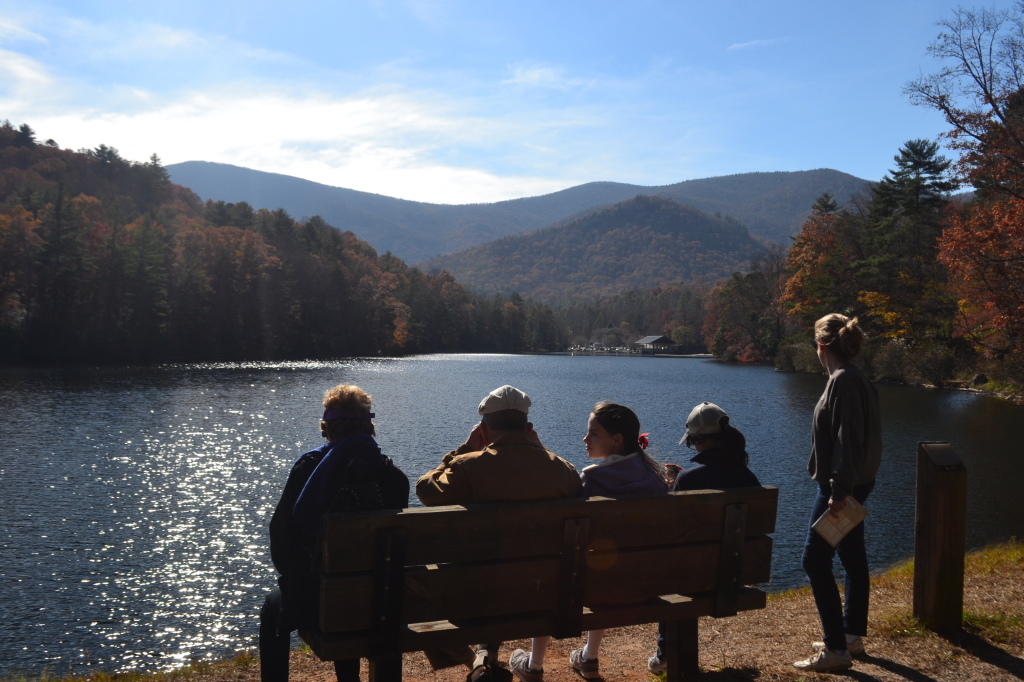 At the base of Blood Mountain, Vogel is one of Georgia's oldest state parks. A glistening lake sits to the right of the road, while cabins provide overnight accomodations. Choosing a spot near the lake pavillion, we set up our picnic at the tables. The orange and brown leaves against the blue sky backdrop were magnificent. As the sun warmed us up, we decided to hike around Lake Trahlyta. Built in the 1930's when the Civilian Conservation Corps damned Wolf Creek, the 22 acre lake is a popular fishing spot. The one mile trail is flat and easy – perfect for both the in-laws and the children. Benches and swings bring rest to the weary.
At the far end of the lake, we walked the short distance to Traylyta Falls. The path descends for 1/4 mile leading to the observation deck near the base of the 110 foot falls. Water rushes underneath the deck making visitors feel part of the falls.
Peace.
Serenity.
Even though we were about a week past the "peak", the trip was well worth it. For more information, visit www.gastateparks.org/Vogel.